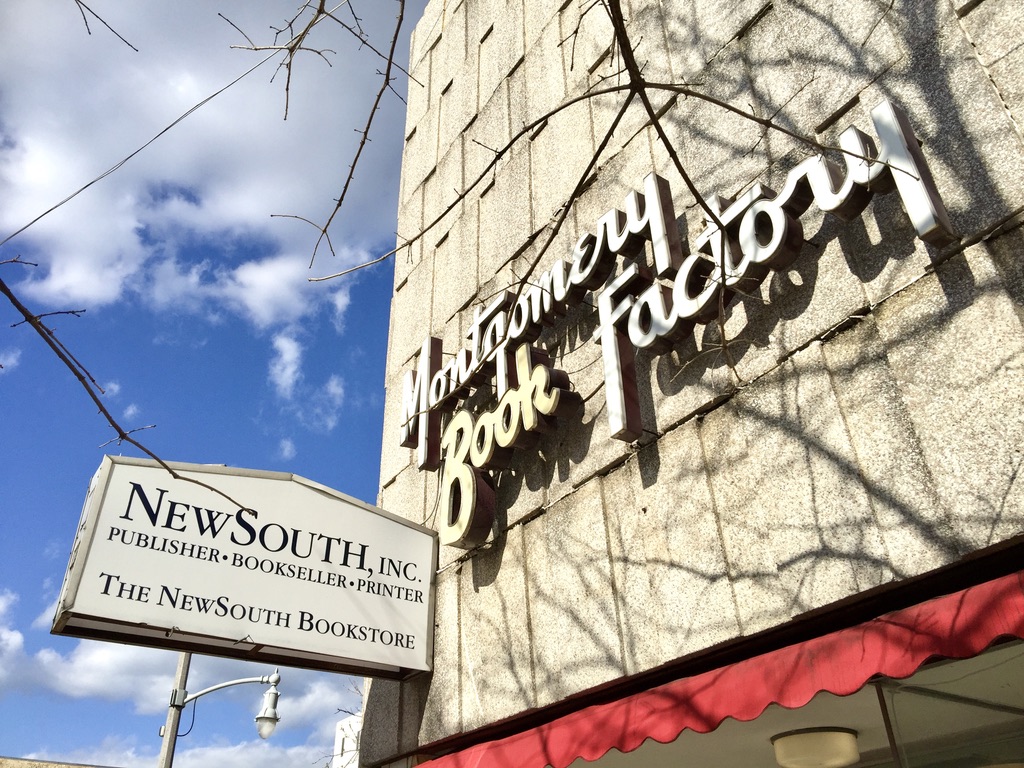 The NewSouth Bookstore began in 2000 as a side business of NewSouth Books, one of the Southeast's leading independent book publishing houses. The store occupied retail space on the ground floor of the building in which NewSouth ran its editorial offices. Downtown Montgomery at that time was somewhat of a ghost town due to post-civil rights movement white flight, but by 2010 a full-scale revitalization was underway, with new lofts, shops, hotels, and restaurants bringing new energy and people, including tourists, to the neighborhood around our store.
That neighborhood happens to be one of the most historically significant downtowns in America. One block from our front door, Rosa Parks boarded the bus on which she would be arrested in 1955, igniting the 20th-century civil rights movement and launching the career of local minister Martin Luther King Jr. One block in the other direction, the Freedom Riders were brutally attacked in 1961. On the next street over from us, 25,000 people walked to the Alabama State Capitol on the last leg of the 1965 Selma to Montgomery March for voting rights. All that civil rights activity was the result of actions a century earlier, when slavery associated with the cotton culture made Montgomery one of the wealthiest cities in the nation by the outset of the Civil War, war that was initiated from Confederate offices located just yards from our bookstore.
Civil War and civil rights — both began here. That rich history informs the NewSouth Books publishing program as well as the inventory we have always carried in The NewSouth Bookstore. Until July 2022, however, our focus remained on book publishing. That changed with the sale of NewSouth Books to the University of Georgia Press, which now maintains the imprint and carries forth our important publishing mission. With the sale, cofounders Suzanne La Rosa and Randall Williams are devoting their energies and resources to the bookstore — to expanding its space, stocking a more complete and exciting array of books, hosting more events, developing its online presence, and better serving the local community overall. Jessala White, our bookstore assistant manager, is at the hub of these activities, adding and reorganizing the stock, creating appropriate signage, and updating our website, even as she serves the many customers who come through our doors.
We remain at 105 S. Court Street in downtown Montgomery in the same building we once shared with NewSouth Books. But some things have changed. There's new energy at The NewSouth Bookstore, a new sense of purpose. We offer an even deeper curated selection of books, new and used, in these important core categories — civil rights, African American, Civil War, slavery, Reconstruction, Southern interest, Alabama interest, Montgomery interest, and Native American — as well as a wider variety of titles in the areas of biography/memoir, politics, literary fiction, classics, poetry, and general nonfiction. We are also more events-minded. Our calendar is full with a variety of bookstore programs, including literary readings/book talks, presentations by historians, music events, the reading of plays, and more, which local residents and visitors will learn from and enjoy.
Come visit when you're in Montgomery. Come visit if you live in Montgomery. Come sit on the Arlam and Johnnie Carr memorial couch in our bookstore. Mrs. Parks did.